15 June, 2014
Moussaka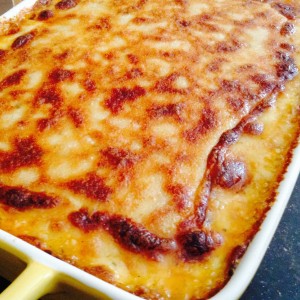 Posted in :
Casseroles
,
Greece
on
by :
Richard Lamse
2 big eggplants (about 600 gr)
3 big potatoes (about 700gr)
500gr minced beef (or lamb)
2 onions, diced3 garlic gloves, chopped
1 can tomato paste (about 140gr)
1 can petite diced tomatoes
1 tsp sambal (or chopped red pepper)
0.5 tsp ground cinnamon
1 tbsp + 1 tsp oregano
50 gr butter
50 gr flour
200 ml heavy cream
300 ml whole milk
pinch nutmeg
60 gr grated Parmigiano-Reggiano cheese
salt & pepper
olive oil
Peel and slice the potatoes in thick slices. Cook the potato slices in salted water for about 10 minutes (not fully cooked). Drain using a colander and set aside. Slice the eggplants in thick slices, about 0.5 cm thick. Pet the eggplant slices dry with a paper towel. In batches fry the slices on medium to high heat in a large skillet. Brush the slices before adding them to the skillet with some olive oil with a little sprinkle of salt. Fry until brown on each side (about 2-3 minutes per side). Set aside. For the meat sauce, heat about a tablespoon of olive oil in a saute pan. Add onion and garlic and saute at medium heat until the onion is translucent. At the minced meat breaking the lumps apart and saute until there is no more red. Add the tomato past and saute for about a minute. Add the cinnamon, salt and pepper to taste and saute for another minute. Stir in the diced tomatoes, a table spoon of oregano and sambal. Reduce the heat to a simmer and let it simmer while making the béchamel sauce. For the béchamel sauce melt the butter in a sauce pan. Do not brown the butter. Add the flour and stir for about 2-3 minutes using a whisk. Slowly add the cold cream and milk while stirring. Keep on stirring until the sauce thickens. Add a pinch of nutmeg and a teaspoon of oregano. Season with salt and pepper.
Pre-heat the oven at 200ºC (400ºF). Grease a large casserole dish with some olive oil. Add a layer of potato slices. Sprinkle with a little bit of salt and sprinkle with 1-2 tbsp of grated cheese. Add a layer of the eggplant. Add a layer of the meat sauce. Repeat this: layer potato, sprinkle salt and cheese, eggplant and remaining meat sauce. Top with the béchamel sauce and sprinkle the remaining cheese on top. Cook for about  60 minutes in the pre-heated oven. When  the top is browning, reduce the heat to 175 (350) and continue cooking.