10 June, 2014
Mexican Casserole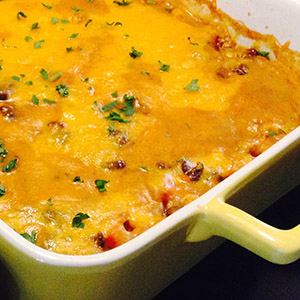 Posted in :
Casseroles
,
Mexican
on
by :
Richard Lamse
500 gr minced meat
2 onions, diced
3 cloves garlic, minced
2 tomatoes, diced
1 red sweet (bell) pepper, diced
1 can black beans (drain)
0.5 can sweet corn (drain)
0.5 tsp ground cumin
1.5 tsp paprika half-sharp
1 tsp ground chili
4-5 tbsp spicy salsa
100ml heavy cream (room temp)
150gr sharp cheddar, grated
some chopped parsley
olive oil
salt & pepper
Preheat the oven at 180ºC (365ºF). Heat some olive oil in a saute pan on a medium to high heat. Add onions and garlic and saute until translucent. Add the minced meat, break apart lumps using a fork. Season with pepper and salt. Add the spices (cumin, paprika and chili) and saute for about a minute. Add tomatoes, sweet pepper, corn and beans and cook until sweet pepper is soft. Add the salsa and season with salt if necessary. Saute for another two minutes. Lower the heat and add slowly heavy cream while stirring. Let it cook for another two minutes. Add mixture to a casserole dish and top with the grated cheese. Place the dish in the preheated oven and bake until cheese is melted and bubbling (about 20 mins). Sprinkle with some parley before serving. Serve with Mexican rice, shredded salad and tortilla ships.
Tips:
You can replace heavy cream for sour cream.
Add more salsa or a dices jalapeno if you like it spicy.