18 August, 2014
Tiramisu tradizionale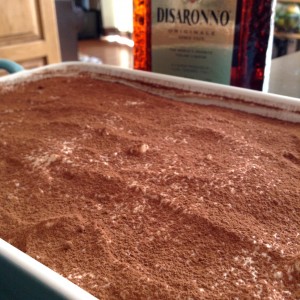 Posted in :
Dessert
,
Italian
on
by :
Richard Lamse
3 eggs, separate yolks and the whites
3 tbsp dark brown sugar
250gr Mascarpone
1 pack Lady fingers
1 cup cold strong coffee
4-5 tbsp Amaretto Disaronno
cacao powder for dusting
Before starting it's important you use proper coffee for this recipe. Strong coffee is not your filter/nespresso/senseo coffee. Use a proper Italian espresso coffee like Lavazza, Segafredo or Illy.
In a bowl beat the egg whites until stiff. In another bowl mix the egg yolks with the sugar until light and creamy (about 5-7 minutes). Mix in the Mascarpone. Fold in the egg whites using a spoon. Mix the Amaretto with the coffee in a small bowl or plate.
In a 9x13inch pan, add about 1/3 of the Mascarpone mixture. Next layer the lady fingers dipped in the coffee-amaretto mixture on top (about half of the pack). Dust with a cacao powder. Repeat this step for the next layer. Finally finish the tiramisu with the remaining Mascarpone mixture and dust with the cacao.
Put the tiramisu a couple of hours in the fridge before serving. This dish is best made a day ahead.