5 March, 2011
Brussels waffles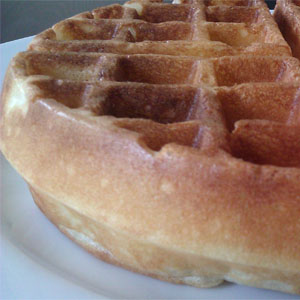 Posted in :
Belgium
,
Breakfast
on
by :
Richard Lamse
500gr all purpose flour
500ml milk
100gr sugar
4 eggs
300gr butter (salted)
50ml warm water
10gr dry yeast (or 25gr fresh)
1 tbsp honey
2 tsp vanilla extract
1 waffle iron (preferably one that can flip)
Melt the butter in a sauce pan on a low heat. The butter may not brown. Mix the eggs and milk together. Put the flour and sugar in a large bowl and add the egg-milk mixture. Mix everything together to a smooth dough. Mix the honey and warm water together in a small bowl. Dissolve the yeast in the honey-water mixture. Add yeast mixture and melted butter to the dough and mix everything well together. Cover the bowl with a cloth and let it rise in a warm place (100 degree Fahrenheit oven for example) for about 30 minutes.
Heat the waffle iron. Since the dough has in quiet a bit of butter you do not have to grease the iron. Add a correct amount of dough to the iron and flip the iron after closing. Flip every 30 seconds. The waffle is done when most of the steam has disappeared.