27 April, 2010
Pad Thai
Posted in :
Asian
,
Thailand
on
by :
Richard Lamse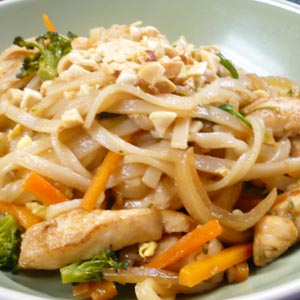 200-250 gr rice noodles
3 tbsp peanut oil
1 egg, beaten
1 chicken breast
1 onion
2 garlic cloves
2 chilis
1 carrot
1 broccoli
1-2 tbsp fish sauce*
2 tbsp soy sauce
2 tbsp lime juice
1.5 tbsp honey
1 tbsp tamarind paste
1/4 cup dry roasted unsalted peanuts
salt and pepper to taste
fresh coriander (optional)
bean sprouts (optional)
lime (optional)
Cut the onion in thin wedges, grated the garlic and thinly slice the chilis. Cut the broccoli in small bit-size pieces and cut the carrot julienne. Slice the chicken in small pieces. Heat 1 tablespoon of oil in a wadjan (wok).  Add the egg and fry while stirring the egg until cooked. Remove from wadjan and set a side. Heat 1 tablespoon of oil to the wadjan. Add onion, garlic and chilis. Fry for 2-3 minutes. Add chicken and fry until chicken is browning. Add carrot and broccoli. Fry for 1 minute and add 2 tablespoons of water to steam the vegetables. Remove from wadjan and set a side. Combine fish sauce, soy sauce, lime juice, honey and tamarind paste in a bowl. Heat 1 tablespoon of oil in the wadjan and add the sauce mixture. Cook for  1 minute. Add the rice noodles and toss it around so that the noodles are coated with the sauce. Add egg and chicken vegetable mixture. Toss until all mixed together. Season with salt and pepper to taste.
Serve in a bowl topped with some chopped peanuts. Traditionally you add some bean sprouts, freshly chopped coriander and a wedge of lime to the dish.
* the more fish sauce you use, the stronger the taste of fermented fish and the saltier your dish gets.