1 March, 2011
Sate sauce (peanut sauce)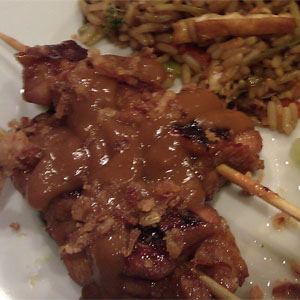 Comments : 3 Posted in :
Indonesian
on
by :
Richard Lamse
160gr roasted peanuts (unsalted)
400ml coconut milk
peanut oil
1 onion chopped
2 garlic cloves finely shopped
2 tsp finely chopped ginger
1 tsp ground cumin
½ tsp cayenne pepper
2 tbsp brown sugar
2 tbsp ketjap manis
1 tbsp ketjap asin
2 tbsp lemon juice
sambal oelek (optional)
In a wok heat one tablespoon of peanut oil and add the peanuts. Fry the peanuts for about 5 minutes or until golden brown. Toss them frequently so they do not burn. Remove the peanuts from the pan and set to cool on a paper towel. Once cooled down a bit, finely chop the peanuts in a food processor. Add two tablespoons peanut oil to the wok and fry the onions at a medium heat until soft. Add the garlic and ginger and fry for another 2 minutes. Add cumin and cayenne and fry for another two minutes. Toss frequently so the spices to do not burn. Add the sugar and let the sugar melt. Make sure that the sugar does not burn as this will cause a bitter taste. Add the coconut milk, the finely chopped peanuts, lemon juice, ketjap manis and ketjap asin.  Cook until you get a nice thick sauce. If the sauce is light of color, add some more ketjap. If you like it more spicy, add sambal oetlek.
3s COMMENTS