2 May, 2010
Dutch split pea soup (Erwtensoep or Snert)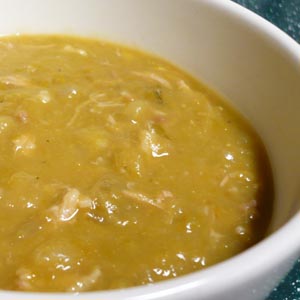 Posted in :
Dutch
,
Soup
on
by :
Richard Lamse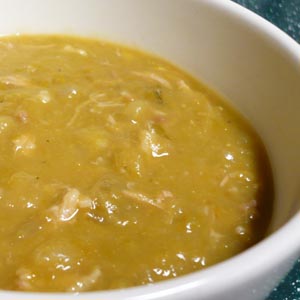 1 bag of green split peas (16 oz or 453 gr)
2 large carrot
1 big leek (inch think) or 2 small ones
2 onions
2 celery sticks
celery leaves
2 potatoes
5oz bacon
2 pork chops or 4 pork ribs (fatty meats)
6 cups water
salt and pepper
smoked sausage (optional)
Coarsly shop onions, carrots, potatoes, leek, celery sticks and salary leaves. Cut the meat of the bones in one inch cubes.  Keep the bones. Shop the bacon.
Get a big pot, preferably a Dutch oven. Rinse the split peas and add them to the pot.  Spread them out evenly. Layer the bacon, meat and bones on the split peas.   Layer the onions, carrots, potatoes, leeks and celery sticks. Finally sprinkle about a handful of shopped celery leaves over the vegetables. Crumble the beef stock cubes in the pot and add the water. Put the lit on and bring to a boil. Continue to boil on a low heat for about 75 minutes. Check one or twice, but do not stir! After 75 minutes you give it a quick stir. Put the lit back on and cook for another hour. Check if the meat falls apart. Take out all the meat and bones. Use two forks to pull the meat. Put the meat back in the pot. Give everything a good stir. The soup should be very thick. Season with pepper and salt.
If the soup is too watery, continue to boil on low heat with the lit removed. Stir occasionally as this soup is easy to burn. When the soup as the right thickness, season with pepper and salt.
Traditionally this soup is served with sliced smoked sausage that you heat up in the soup.
This soup is best made one day ahead. This soup can be stored in the freezer.