18 October, 2011
Caribbean chicken stew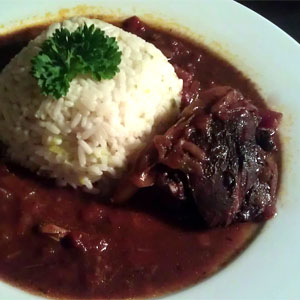 Posted in :
Caribbean
on
by :
Richard Lamse
6 pieces of chicken (thigh, legs etc)
2 tsp Bajan seasoning
1 sweet pepper, diced
1 onion, diced
1 can petite diced tomatoes
½ cup coconut milk
2 tbsp tomato paste
1 tsp curry
½ tsp pimenta (allspice)
½ tsp dried thyme
½ cube chicken stock
1 tsp grated ginger
2 tbsp oil
1 tbsp  brown sugar (cane sugar)
1  hot pepper (optional) or hot/mild pepper sauce (not Tabasco)
Wash chicken pieces and remove skin (optional). Place chicken in a bowl and add the Bajan seasoning. Marinate overnight.
Heat oil in a heavy pan and add the sugar. When the sugar is dark brown add the chicken pieces. This is called browning and will add a nice brown colour and flavour to the chicken. Be careful that the sugar does not burn or your dish will taste bitter.
Fry the chicken until it has a nice a dark brown colour. Add coconut milk, diced tomatoes, one can of water and the remaining ingredients. Bring to a boil and let it simmer for 2 hours. Optional you can add a whole pepper and let it cook along. Taste occasionally for the heat as your dish will get more spicy the longer it cooks!.
Add salt and pepper to taste.
Serve with rice and leeks.