19 January, 2015
Chicken Mascarpone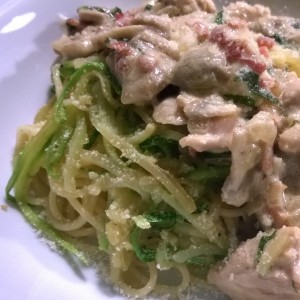 Posted in :
In the kitchen
,
Italian
on
by :
Richard Lamse
500gr chicken boneless thighs (no skin)*
100gr bacon
1 onion
1 garlic clove
225gr mushrooms
225gr mascarpone
1 chicken stock cube
1 or 2 courgette (zucchini)
fresh basil
parmigiano reggiano
pepper & salt
olive oil
450 gr spaghetti
Cook the spaghetti according to the directions on the package. Dice the chicken, bacon and onion. Season the chicken with some salt and pepper. Mince the garlic and slice the mushrooms. Heat some olive oil in a sauce pan at medium heat and fry the the bacon until crisp. Add the onion and garlic and cook until the onion is translucent. Add the mushrooms and cook for about 5 minutes. Increase the heat to medium-high and add the chicken. Cook for about 5 minutes. Reduce the heat to medium low. Crumble stock cube and add to the pan and cook for another minute. Stir in the mascarpone until it's also melted. Add some shopped basil leaves. Continue cooking at medium-low for another 10 minutes. In the meantime, use a mandolin or vegetable peeler to make thin ribbons from the courgette. Heat some olive oil to a wok on a medium to high heat. Add the courgette pasta and fry for a few minutes. Season with pepper and salt.