11 May, 2010
Farfalle with vegetable meat sauce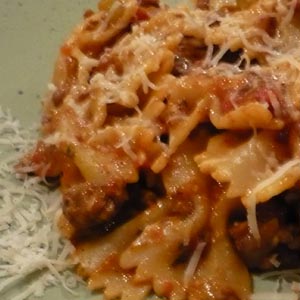 Posted in :
Italian
on
by :
Richard Lamse
150-200 gr Farfalle pasta
300gr ground beef
2 tbsp olive oil
2 garlic cloves, minced
1 carrot, chopped
1 onion, chopped
1 sweet pepper, chopped
1 celery stick, chopped
a few fresh celery leaves, chopped
2 tsp dried basil
1 tsp oregano
1 tsp thyme
1 tsp parsley
1/4 tsp dried chili flakes
1 tsp paprika
1 tbsp tomato paste
1 cube beef stock (Oxo)
1 can (453 gr) diced tomato
Parmesan cheese
pepper and salt
Cook pasta one minute shorter than according to the instructions on the package in salty water. Heat the olive oil in a pan. Saute the onion until translucent. Add minced garlic to the pan and fry for another minute.  Add carrot, sweet pepper and celery to the pan and fry for 5 minutes. Stir in the dried herbs, celery leaves and chili flakes and cook for another minute. Add the beef and cook until browned. Add tomato paste and paprika and cook for one or two minutes. Add the diced tomatoes and crumble in the cube beef stock. Stir until the cube is dissolved, reduce the heat and cover the pan and let it cook until the sauce thickens. If the mixture is to dry, add some water from the pasta. Season with pepper and salt. When the pasta is ready, drain the pasta and put it back in the pan. Add the vegetable meat sauce and let this cook on a medium heat for one or two minutes. Add about 1/4 cup of Parmesan cheese. Stir until the cheese is melted. Serve with freshly grate Parmesan and black pepper.