7 March, 2011
Nasi goreng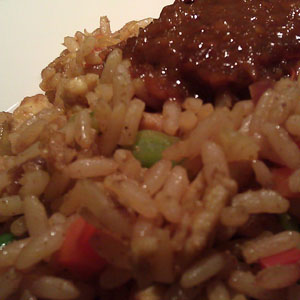 Posted in :
Indonesian
on
by :
Richard Lamse
2 cups uncooked long grain rice
2+1 tbsp peanut oil
1 red onion
1 leek
1 celery stick
1 carrot
1 small red sweet pepper
2 tsp ground cumin
2 tsp ground coriander
1 tsp sambal oelek (or more if you like spicy)
4 garlic gloves chopped
1 tbsp fresh ginger chopped
3 eggs beaten
1 cup bean sprouts (tauge)
4 spring onions
1 tbsp ketjap asin
2 tbsp ketjap manis
salt and pepper
Cook the rice in salted water according to the instructions. Spread the rice out on a baking tray and set to cool. The rice needs to be cold before you continue.
Chop onion, leek, celery, carrot and sweet pepper. Cut the spring onions in small rings. Add oil to a wok and fry onion at a medium heat until soft. Add garlic and ginger and fry for 2 minutes. Add cumin, coriander and sambal oelek and fry for another 2 minutes.  Add leek, celery,  carrot and sweet pepper to the wok. Add 1 tbsp of water and ketjap asin. Fry for 2 minutes. Add the cold rice to the wok and stir fry for another 2 minutes. Set aside the fried rice. Add 1 tbsp oil to the wok. On a medium heat add egg mixture to the wok and stir around to make an omelet. Remove omelet. Chop the omelet. Add fried rice to the wok, add spring onions, bean sprouts, egg and ketjap manis to the fried rice. Stir fry for a couple of minutes.  Add salt and pepper to taste.
Serving tip: sate sauce, atjar tjampoer, serundeng, sate ayam and banana