7 October, 2012
Minced meat casserole with brown basmati rice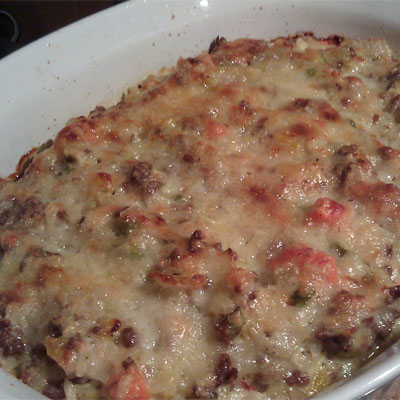 Posted in :
Casseroles
,
In the kitchen
on
by :
Richard Lamse
350 gr cooked brown basmati rice
500 gr ground (grass-fed) beef
1 cup diced sweet peppers  (mix of red, yellow, green)
½ cup chopped leek
1 carrot diced
4 asparagus chopped
2 diced onions
2 tsp cajun spice mix
½ tsp ground paprika
¼ tsp ground nutmeg
3 large eggs
200 ml half and half cream
150 gr grated parmesan cheese
salt and pepper
oil
Pre-heat the oven at 200°C (400F). Add some oil to a skillet and  brown the minced meat, over a medium heat, breaking up any lumps. Optional drain the excessive liquid. Add spices to the pan and salt to taste. Add the vegetables and cook for until the vegetables are tender.  Take the pan of the heat and add the rice with half of the cheese to the mixture. Mix the eggs with the cream, season with salt, and add to the mixture. Add the mixture to a lightly buttered casserole dish. Sprinkle the remaining cheese over the top and place the dish in the center of the oven. Let it cook for about 20 minutes until cheese is nice golden brown.
Tips:
Replace asparagus with broccoli